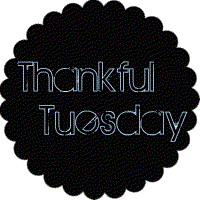 This is going to be my 3rd post for today but I really wanted to participate in Thankful Tuesday. It's so easy for me to forget all the things I'm thankful for.
I'm thankful for:
~the fact that it's raining and not snowing.
~that I have a puppy and 2 kitties that like lots of love and give it in return
~for awesome friends
~ for awesome family!
~that I have a washing machine and don't have to wash the huge pile of clothes by hand
~that I have a dryer and don't have to hang the clean, wet clothes all over the house.
~that my husband will be home for Christmas!
~answered prayer.
~Christmas lights
What are you thankful for today?
If you would like to participate, head over to
A Little Something
to link up!