The Man's been gone for a little bit now. I'm getting into a routine and I've been staying busy which has helped a lot. I've gotten some emails-more than I expected!- and that's helped too. There are things I miss and I decided to make a list: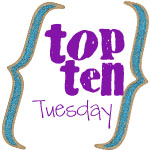 10. Having someone to bounce ideas off of.
My brain has a tendency to over think things. I'm able to bounce ideas of him and he's able to help me makes sense of what I'm thinking.
9. Having someone to pick the going to bed movie.
Before we got married, I used to listen to music to go to bed. The Man would go to bed with a movie on. Since our wedding, he's one me over and we now watch a movie to go to bed. We usually take turns picking the movie. Since he's left I've watched Down Periscope & Clue. I hate picking the movie and I can't wait for him to do it when he gets home.
8. Getting random texts during the day.
I love getting a random text from The Man during the day that tells me that he loves me. I don't get them every day but often enough to miss them while he's gone.
7. Having someone to go to church with.
I don't like going to church by myself. I'm not sure why. I have friends that I can sit with when he's not here, and I don't mind the questions (most of the time) about where he is. I just prefer to go with him.
6. Having someone to help take care of Miss Molly.
I love my puppy. I love her a lot. But she can be whiny, especially when she wants to go outside. Now that we've been getting some sunshine (it's still chilly though!) she wants outside ALL THE TIME. At least with The Man here we can take turns taking her out. He'll also work downstairs and his area is outside. Miss Molly goes out with him and hangs out. She LOVES it. She expects me to do that now...she'll be very, very happy when he's home!
5. Having someone to do something with during the evening and weekends.
I like spending my free time with my husband. As an only child I can amuse myself just fine but there are those evening when I wish he was here so we could go for a walk for plan something for the weekend.
4. Having someone to cook for.
I'm enjoying being able to cook things that The Man doesn't enjoy (like mac n' cheese) but I enjoy cooking dinner for us. I enjoy eating dinner with him as well. The Man also enjoys cooking so I often get the night off when he's home.
3. Having someone to talk to that talks back.
I talk the Edgar, Allen & Molly and they are great listeners. They just don't talk back. Sometimes this is a good thing! It would be nice to hear another human voice that didn't come from the TV at home though.
2. Giving/getting kisses when The Man comes home from work.
Another great part of the day...kisses!
1. Snuggling while watching TV & going to bed.
My favorite part of the day is falling asleep in The Man's arm. I can't wait to be able to do it again!
This isn't an exhaustive list...just some of the things I'm missing. If you'd like to make our own top 10 list, you can link up over at
Oh Amanda
.