Today I'm linking up with Miranda from The Pebble Pond for the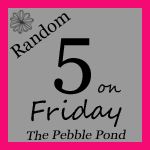 meme she created call Random 5 on Fridays.  I can do random.  I do random really well!  Just ask The Man!
1.  I've had a great bloggy week!  I managed to post everyday this week.  That hasn't happened since I don't know when.  It's probably been at least 9 months.  I've also had a great time meeting new bloggers during the Ultimate Blog Party 13.  That's how I found Miranda!
2.  Munchkin has 4 top teeth coming in.  The middle two have cut and the other two are working on it. 
This is making for a cranky Munchkin.  Going to sleep is the hardest.  I feel so bad for her and I wish I could do more.   I'll be so happy when the teeth come in.  It's also making us thankful that we normally have a very happy baby. 
3. My Wii controller is on the brink.  It doesn't want to work and it takes me 3-4 minutes to get it to work.  It's cutting into my time watching Say Yes to the Dress!  I can't get the other controller connected and it's so frustrating!
4.  When it became clear that the sequester was going to happen and we were looking at 22 furlough days, The Man got a second job.  We were both looking and he found on first.  We had to have a second income with the loss of that much income.  We were thrilled when the number of furlough days were cut to 14.  The Man started his second job, which was a night.  It's been about three weeks and let me tell you, it's been rough.  Last night we heard a rumor that the furlough days could be cut to 7.  SEVEN days.  Seven days is way better than 22.  We can make do with 7 days.  We realized that we can live without the second income.  It will be tight but we can do it.  So The Man quit the second job last night.  I feel like a huge weight has been lifted off our shoulders.  Munchkin and I weren't getting a lot of time with him and we NEED that.  So I'm a happy girl going into the weekend!
4.5  All of the Reese's eggs I bought on Tuesday are gone.  GONE! Part of me is happy and part of me is sad.  How am I going to satisfy my peanut butter craving?
5.  I got an awesome gift in the mail the other day from my mom.  It's a just because gift.  She sent me herb plants! I got marjoram, basil, oregano, thyme, sage and rosemary.  I can't wait to plant them.  I love fresh herbs!  I usually start them from seeds and it's been hit or miss for me.  I'm so excited to have the plants!
What's up with you guys today?