As I mentioned on Twitter I'm having a hard time blogging.  I have 5 or 65 drafts sitting, just waiting to be worked on.  The words aren't flowing though so there they sit.  Then I saw that Ashley writing about the details about her wedding and I thought I can do that!  So here ya go!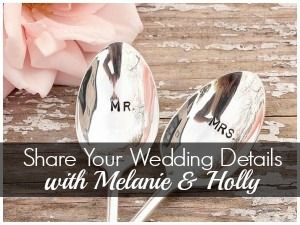 I planned our wedding while The Man was deployed on a West Pac tour.  Being on a submarine means limited communication so I made the majority of the decisions by myself.  I would email him what I decided and he was fine with that!  Before he left we did decide on a date.  We decided that August would be a good month because the boat was supposed to return at the beginning of June.  However schedules in the Navy have a way of changing and we wanted to make sure he would be home.  When his parents found found we were thinking August they asked if we would mind being married on their anniversary.  It sounded like a good idea to us.  We are the third generation to be married on this date as it is also his grandparents anniversary. 
The date just so happened to fall on a Tuesday.  So we got married on a Tuesday.  We invited about 125 people but 70 came.  This was fine with me as I had wanted a small wedding.  It was mostly my friends and family as The Man's family & friends are spread out across the country.  His parents and brothers did make it as did a couple of friends from upstate New York.  The wedding was held at Country Gardens in Rehoboth, MA. 
We each had three attendants.  The Man had his brothers and I had my cousin-who-is-more-like-my-sister, my closest friend from college and my then roommate.  My cousin/sister's oldest son and daughter were our ring bearer and flower girl.  My colors were red and silver and they fit in nicely with the Asian theme that was going on.
We flew The Man's pastor from Florida up to marry us.  The Man wore his dress blues.
One of the most important details is that my father was able to walk me down the aisle.  He had been in and out of the hospital in the month leading up to our wedding and there were times we weren't sure he was going to be able too.  I'm am so thankful my daddy was able to walk me down the aisle.
I carried red roses and white calla lilies.  My mom made my jewelry out of pearls and crystals. My veil was made by a friend I went to high school with.  I wore red strappy heals with my wedding dress.
Our favors
I remember being stressed out trying to find a cake.  Four years later and I can't remember what flavors the tiers were.  I just know that they were all different.  We had a hard time cutting into the cake.  I'm not sure if it was because the fondant was really hard or in our knife was really dull.  The knife and server we used are the same ones my parents used at their wedding.
We had a buffet.  On each table we had a menu card so people knew what was in the buffet.  The center piece was a little vase filled with flowers.  That was placed on top of a red cloth napkin that had the Chinese character for love stamped on it.
For our first dance we played 18th Floor Balcony by Blue October. 
The second verse of our song starts off by saying "So we talked about mom's and dad's/about family pasts..."  We did the father/daughter and mother/son during it.  It's a long song so after a little bit we dance with each other again and had everyone come up a join us. 
There was a little dancing.  Since it was a weekend night people couldn't stay very late.  It would have been fun if there had been more.  It was fine that there wasn't though.
The Man and I still say that our wedding was perfect.  And it was.  It was perfect for us.  The best part of it was the fact that it was the beginning of the rest of our lives together. 
And the honeymoon?  The pre-pre-honeymoon was packing up my apartment and loading up the u-haul trailer.  It was NOT fun.  I DO NOT recommend doing this. It was probably the worst first day of marriage EVER.  The pre-honeymoon of driving cross country with stops at Mt. Rushmore & Yellowstone and a honeymoon of an Alaskan cruise made up for it. 
I'm linking up with Melanie and Holly.  You can go check out the details from other weddings too!