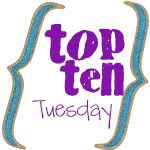 I began to notice it when Dad & I hit New York. Those slight things that make you realize that you're in a different part of the country. Here's my top 10 list in no particular order:
10.
Rude people
People in the northeast are rude. There's just no way around it. It's comforting to me to know I can come here and people are rude. I expect it and in some weird way enjoy it. I like knowing that some things never change!
9.
People waiting till the last second to get over
You know when there's road construction and there's a sign that says the lane is closed in 2 miles? People in the northeast will wait till the last possible SECOND to get over. They must think they'll get where ever they are going quicker. Now that I've lived someplace where people get over as soon as they see the sign, I find it annoying.
8.
Congestion
There are just more people here. More people + less space= conjestion. I've been feeling a little constraphobic. I need me some wide open spaces!
7.
Aggressive Drivers
I've been cut off more in past 3 days than in the past year. It's crazy! I'm not sure people in MA should be allowed to drive. I can feel myself slowing slipping back into my MA driving ways...
6.
Wicked
This word used to be a staple in my vocabulary when I was a teen. I went to college in NY and then lived overseas, so it slowly faded. I was listening to some teens talk and realized that wicked is still apart of their vocab. Then I used to again. I think it's a MA thing!
5.
Missing R's
Who needs the letter r when you talk? Bostonians don't!
4.
Dunkin' Donuts
There's at least 3 DD in every town. Often there are more. In my hometown there are 3 within a mile of my parent's house. Go 2 miles and there are 2 or 3 more. It's crazy! And FYI, I've heard that DD offers a military discount...haven't tried it yet but I'm going to soon!
3.
Christmas Tree Shops
I did see one in Indiana on the way here but for the longest time they were only in New England. We used to go there a lot when I was a kid to get great deals on things. They still have great deals but I don't need most of what they have. I do miss having one in WA for things like gift bags, paper plates, napkins...things like that. Otherwise it can be a lot of junk. Cool, cheap, often useless junk.
2.
Lots & Lots of Cops
It seemed like the minute we crossed over into New York we saw a ton of state cops with people pulled over for speeding. The cops are bad in WA. At least in MA if the speed limit is 65 you can go 70 and not be worried about being pulled over. Not to worry though, most people drive faster than 70 and the cops are able to keep revenue coming in from speeding tickets. I like being able to go 5 over. Maybe it's the rebel in me!
1.
Highways
I know all the major routes! It's so nice to know of the major roads like 95, 495 & 128 and know where they go and when to avoid them. I'm stilll learning the ones on the West coast...I think it's going to take me years!
If you'd like to make your own Top Ten list, head over to
Ohamanda
to link up!
There you have it, 10 ways I knew I was home. What things do you notice when you visit where you grew up?