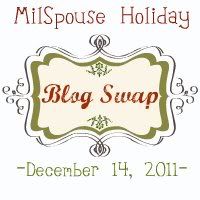 Wife on a Roller Coaster
came up with a great idea...a Christmas blog swap! So a bunch of Milspouse bloggers got all swapped up and we're taking over someone else's blog for the day. You can find the complete list of participating bloggers and the links on the RC's blog.
You can find me over The Few, The Proud, The Wife. When you're done reading, this post, please head on over and say hi to Ines and leave me a little comment love. Thanks!
I have the honor of hosting Ann Marie from Household 6 Diva. In case you've never heard of her, here's her bio:
Ann Marie Detavernier is a Military Spouse currently stationed in Baumholder, Germany. With her husband currently deployed to Afghanistan, she is a full time volunteer in her community, an award-winning photographer, and a trailblazer for military families living overseas. She writes with humor and refreshing honesty about daily life as an Army Wife and Busy Mom of three small children at
www.household6diva.com
.
I didn't grow up with an extended large family. My parents divorced when I was young and with a working Mom, the holidays were a season of choir and band concerts, carnation fundraisers through student council, and a quiet candlelit dinner at home with my Mom, sister and I. It was festive. It was heart felt. It was real.
My husband and I were legally married the last Wednesday of November and spent our honeymoon night in a tiny hotel somewhere in northern Ohio on our way to his family's Thanksgiving celebration. It would be another three weeks until we moved in together and frantically prepared our new home to receive family for our unofficial official Wedding Day on New Year's Eve.


The following year, Seth was deployed to Iraq in early November when I was 33 weeks pregnant with our first child. The first week of December I was invited to someone's home for a Christmas Caroling party. I remember that morning waking up with no intention of going. I was 39 weeks pregnant. The only dessert I had confidence I could prepare properly (that would at least turn out edible!) was a Jello No-Bake cheesecake. I was perfectly content to spend the day in yoga pants watching tv and sorting through baby clothes for the hundredth time.
Around three in the afternoon, I changed my mind. I made the crust, mixed up the pudding, and popped open a can of sliced peaches thinking they might look nice as a decorative garnish on top. Then I ran upstairs to take a shower. An hour later I was waddling back down the stairs in my nicest white maternity shirt and brown corduroy slacks to grab my beautiful pie and head out to the party.
When I arrived I was greeted by warm hugs and heartfelt smiles. It was overwhelming – but in a very good way. As I set my comparatively frumpy pie among the exotic desserts I remember wanting to cry. I felt like I didn't belong there. My husband was in Iraq. My belly was huge. My dessert looked like it had been made by a second grader.
That was the moment the hostess finally found me. Ms. Brigitte had been a military wife for many years and instantly made me feel at ease. "What a beautiful pie you made! I'm so glad you are here!" She then circled the room with her arm linked in mine introducing me and engaging others in fun conversation. The evening continued with beautiful alternating rounds of singing and more laughter and stories.
When it was time to go, I again felt tears prick my eyes. It had been a beautiful evening of hospitality and warmth. It was festive. It was heart felt. It was real.
And although my husband was far away that Christmas, my heart was full because of my new military family.